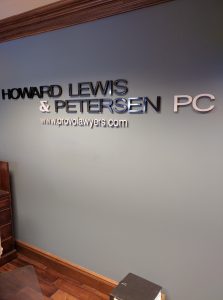 FIRM:                 Howard Lewis & Petersen, PC ("HLP").  HLP is one of the oldest and largest law firms original to Utah County.  Since 1950, HLP has been a full-service law firm with significant expertise in civil litigation.   Provolawyers.com.  Phone(801) 373-6345.
WHEN: NOW 11/08/22–Starting 01/2023
JSG 11/08/22
WHERE:             Delphi Building, 120 East 300 North, Provo Utah  84606.  Minutes away from BYU Law School.
RATE:                 $20 plus per hour for the paid law clerks.  Externships are not paid.
HOURS:             Up to 30 hours per week.  Set hours are required.
DURATION:        At-will employment with a one semester commitment.  The Clerk/Extern will be released just before finals begin.  Extensions will be considered on a case by case basis.   
WORK DESCRIPTION:  The clerk/extern will draft legal memorandums, draft motions for summary judgment, draft pretrial motion practice, draft discovery, draft demand letters.  The clerk will attend court with the lead attorney, sit in on client intakes, counseling sessions and attend depositions.
CONTACT:           Those interested should provide a resume and a writing sample to Attorney Jacob S. Gunter.  jacobATATprovolawyers.com. (801) 373-6345.