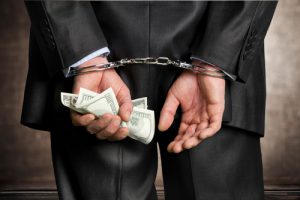 Being charged with a white collar crime is very serious business.  Often, Utah white collar criminal offenses are charged in Federal court which carry much stiffer prison sentences.  Further, Utah white collar criminal allegations are often fact, witness and document heavy.  All these factors make the stakes extremely high.  Federal courts generally sentence in years, not allowing you to serve time in the county jail or serve probation.  Additionally, white collar defense requires private investigators, forensic accountants and expert witnesses to strongly defend your legal rights.
The Ogden/Salt Lake/Provo, Utah white collar criminal defense attorneys at Howard Lewis & Petersen, PC can help you defend your reputation against false white collar criminal charges.
DEFENSES TO UTAH WHITE COLLAR CRIMINAL OFFENSES:
Just like any other street or drug crime, the prosecuting attorney must prove:  (1) That an illegal act occurred.  (2).  The criminal defendant had the requisite illegal criminal intent to commit the crime, and (3).  Causation of illegal actions.  Business deals that went bad, or were not economically fruitful are not white collar crimes.    Making the prosecutor prove the legal mindset for a white collar crime is important.  Some white collar crimes are not punishable unless you intended to commit the crime.
TYPES OF WHITE COLLAR CRIME CRIMINAL SENTENCES:
Just like Utah state court criminal charges, white collar criminal convictions carry fines, prison, jail and probation/parole.  Once difference between drug crimes and white collar crimes are the intense damage to your business reputation upon the filing of charges or a conviction.  Understandably, convictions involving theft and fraud are looked at much differently by future prospective employers, than a DUI or a drug possession charge.
WHAT UTAH AND FEDERAL AGENCIES INVESTIGATE WHITE COLLAR CRIME?
When the charges are federal white collar crimes, often a Federal agency will be the lead investigating agency with possible state agencies cooperating.  Common federal and state investigating law enforcement agencies are:
(1).  Federal Bureau of Investigation.  The classic "FBI."
(2).  Internal Revenue Service.  "IRS."
(3).  United States Postal Inspection Service.  "USPIS."  The postal service's law enforcement and security arm.
(4).  Securities and Exchange.  "SEC."
(5).  Drug Enforcement Agency.  "DEA."
(6).  County Sheriff's Office.
(7).  Local police department.
TYPES OF UTAH WHITE COLLAR CRIMES:
Here are some common Utah white collar criminal charges.  White collar crimes can by found in both the Utah State Code or the Federal laws.
(1).  Mortgage fraud.
(2).  Reverse mortgage fraud.
(3).  Criminal Bankruptcy fraud.
(4).  Health care services fraud.
(5).  Mail fraud.
(6).  Embezzlement.
(7).  Government services fraud.
(8).  Money laundering.
(9).  Bribery—public officials.
(10).  Corruption charges—public officials.
(11).  Tax fraud—State taxes and federal taxes.
(12).  Theft by deception.
(13).  Soliciting bribery.  Utah Code Ann. 76-8-103 (2017).  The person who bribes, attempts to bribe a public official or to pay for someone's vote carries a third and second degree felony.   "A third degree felony when the value of the benefit asked for, solicited, accepted, or conferred is less than $1,000; and is punished by a second degree felony when the value of the benefit asked for, solicited, accepted, or conferred is $1,000 or more.
(14).  Receiving a bribe by a public servant.  Utah Code Ann. 76-8-103 (2017).  When as public servant or public elected official receives a bribe, or asks for a bribe, the offense can carry a third or second degree felony.
(15).  Unlawful endorsements.  Utah Code Ann. 76-8-106 (2017).  A person is guilty of a class B misdemeanor if:  (A) He solicits, accepts, agrees to accept for himself, another person, or a political party, money or any other pecuniary benefit as compensation for his endorsement, nomination, appointment, approval, or disapproval of any person for a position as a public servant or for the advancement of any public servant; or (B) He knowingly gives, offers, or promises any pecuniary benefit prohibited by paragraph (1).
(16).  Threats to public officials or voters.  Utah Code Ann. 76-8-104 (2017).  A person is guilty of a class A misdemeanor if he threatens any harm to a public servant, party official, or voter with a purpose of influencing his action, decision, opinion, recommendation, nomination, vote, or other exercise of discretion.  This does not include jurors.  They have their own special section.
WHEN DO I NEED TO CONTACT A UTAH WHITE COLLAR CRIMES LAWYER?
Well before a police officer or Federal Bureau of Investigation shows up at your business, they will be investigating you.  Bank and other investigative subpoenas will have already been issued and returned for analysis by forensic accountants.  When a postal service inspector starts talking to you, it is well past the time to discuss your legal rights with a Utah white collar defense attorney.